Dr. Majda Pajnkihar postala Fellow of the American Academy of Nursing
​Dekanica Fakultete za zdravstvene vede Univerze v Mariboru, prof. dr. Majda Pajnkihar, je na slovesnosti  v Washingtonu v Združenih državah Amerike postala Fellow of the American Academy of Nursing. Prestižno članstvo ima med 2500 člani trenutno le 30 Evropejcev.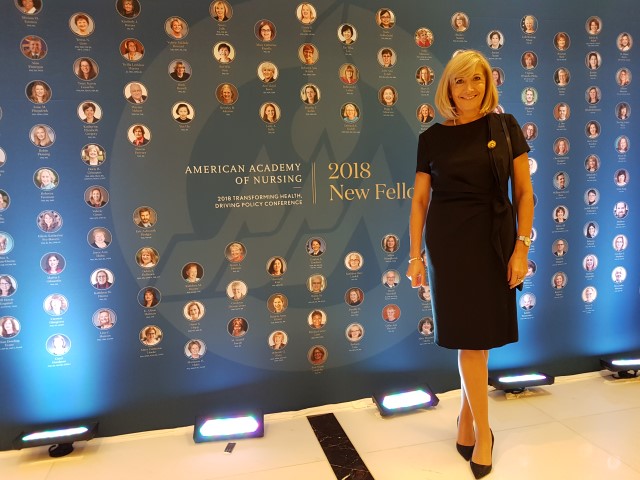 Ameriška akademija zdravstvene nege združuje vodilne strokovnjake s področij izobraževanja, raziskovanja, managementa in prakse v zdravstveni negi iz ZDA in manjše število strokovnjakov iz drugih držav. Fellows AAN oz. člani akademije so najbolj priznani vodje v zdravstveni negi na področjih izobraževanja, prakse in raziskovanja: predsedniki nacionalnih zvez/združenj; rektorji univerz oz. dekani fakultet; direktorji bolnišnic in pomočniki direktorjev za zdravstveno nego; svetovalci, raziskovalci in podjetniki.
Majda Pajnkihar je bila leta 2008 kot prva v Sloveniji izvoljena v naziv docentka, leta 2013 v izredno profesorico in leta 2018 v redno profesorico za predmetno področje Zdravstvena nega in oskrba. Prva v slovenskem prostoru je izdala učbenik za področje zdravstvene nege. Kot gostujoča profesorica sodeluje na številnih tujih univerzah in je članica številnih društev in združenj, uredniških odborov, prejela pa je tudi številna priznanja. S svojim izjemnim raziskovalnim in managerskim delom je izjemno vplivala na razvoj zdravstvene nege v Sloveniji in širši regiji.
Foto: UM